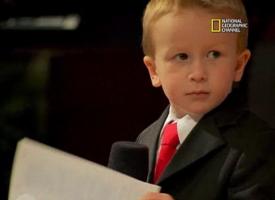 Meet Kanon Tipton, four-year-old-preacher. Don't let his age worry you, he's been doing this for over two years and his church takes his preaching seriously. Both his dad and granddad are Pentecostal ministers, and his dad admits some mimicking is going on but that he doesn't want to discourage him.
But what if Kanon starts mimicking his dad's driving. We will then see him on YouTube behind the wheel of the family SUV? Hopefully not. Then why are we seeing him behind the lectern ostensibly steering his church with a message from God? Is he a spirit-filled prodigy or just a kid imitating dad?
During a Fox & Friends interview, when asked to describe his message, Kanon just shrugs. A quick listen to his preaching on YouTube reveals that most of his speaking is nonsensical–and what else should we expect from him, HE'S FOUR.
Aside from common sense, Kanon's pastoral family should know well enough to weigh his performances against scripture such as 1Tim. 3 to determine if their son meets the standard of maturity for church leaders. By not doing so their well-meaning indulgence is caricaturing the church at large.